my homage to another time and place: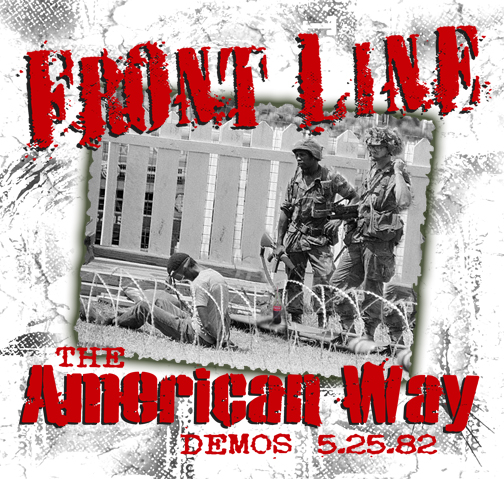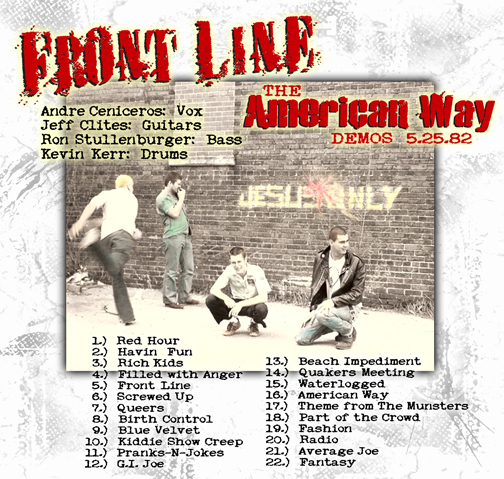 (click on song titles to enjoy .mp3 files)
The page is dedicated to the speed-punk band called Front Line
Originally known as With Intent, Norfolk, Virginia's Front Line only existed for a short while (March - November 1982)
with its most successful line-up, before fading into oblivion. Front Line's significant contribution to America's early punk scene
was powerful enough to change the regional music landscape. Their work remains exciting, relevant & influential to this day.
The band's guitarist, Jeff Clites wrote most of their music with Andre Ceniceros adding lyrics. Sadly, Jeff Clites and Kevin Kerr have passed on. Surviving member Andre Ceniceros currently enjoys quiet anonymity in Virginia Beach and wishes to remain so (for his own reasons). Ron Stullenbarger lives with his wife in PA and produces music in his private studio. The band's original drummer, Rusty Floyd lives in Norfolk, England with his wife and children.
Jeff was an incredibly talented musician & songwriter who eventually opened Skinnies Records, a music shop in the style of Trash & Vaudeville / Commander Salamander; completely devoted to punk & alternative music (now located on 22nd Street in Norfolk). Sadly, as with many artists who are gone, Jeff's work is more appreciated now than it was during his lifetime. Andre was a clever & capricious young man. He would go from one extreme to another in a matter of days. But once committed, his will was of iron, true to the steelworker union lifestyle. Andre's punk attitude & large frame delivered booming vocals which rivaled any other front-man of the time. His entendre dappled lyrics were entertaining on many levels, as all good songs are. Today, Andre is the father of two kids & a fiercely devoted family man.
This is the only known recording of a collection which was to be featured on the demo American Way. The humorous subtitle was, 22 Songs in 20 Minutes. To the band's credit, their music arrangements were incredibly unique at the time. This is a big part of what makes them timeless. In 1982 ~ @ barely 20yrs old, it soon became clear to me this band had something special; their musicianship was tight & their performances EXCITING! They were also a fun bunch of guys to hang around.
The quality of these songs isn't the best (some better than others), but IMO it just adds to the hardcore ambiance. I digitized this amazing group of songs from a rough cassette tape which was recorded in a small rehearsal studio off Princess Anne Rd. in Norfolk, VA on May 25th, 1982. I was heading off to London for the summer and we made this tape for me to bring to the BBC. Amazingly enough, with persistence (and nothing better to do than bug BBC staff), a couple of their songs got airplay that summer as the UK was much more open to emerging artists than radio stations in the USA.
Although the 80's are all a blur to me these days, I clearly remember the fact that it was always thrilling to be asked to record their performances; both on & off stage, on both film & tape.
Here are some of my photo's of that scene: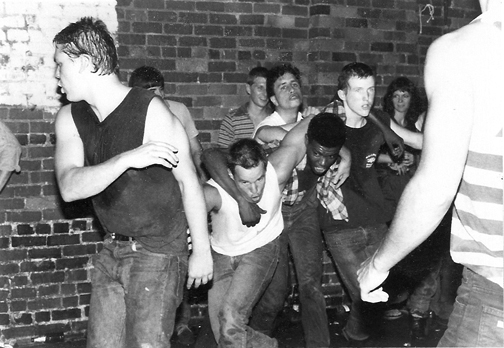 Front Line mosh pit @ Casablanca (club) in Richmond, VA (w/ Dead Kennedys)
Also, Xavier Ceniceros (lead singer Andre's brother) in foreground.
Front Line promo photo:

Norfolk's historic Elmwood Cemetery ~ 1982

Andre Ceniceros promo photo:

Naros gig, ODU Webb Center ~ 1981
| | |
| --- | --- |
| Front Line promo photo, Church Street, Norfolk, VA ~ April 10, 1982 | Alternative music DJ Carol Taylor (Welch) ~ FM 99 studios, Norfolk, VA ~ 1982 |
NEWS FLASH!!!
On December 11th, 2011 ~ Beach Impediment Records [sic] released an EP featuring a small collection of songs- FRONT LINE: Basic Training
tracklist: D.W.I., Having Fun, Beach Impediment, Blue Velvet, Screwed Up, Mr. Potatohead, Front Line, Quaker's Meeting, Black Eye & The Red Hour
The collection was originally recorded on Oct. 13th, 1982... It was salvaged and preserved by Kirk Marchland and Ron Stullenbarger.
The first pressing consisted of 500 7" records (yes, vinyl records) and sold out immediately. The second pressing is available through
Richmond's Grave Mistake Records ~ for more info: beachimpedimentrecords.blogspot.com
Check out swag, pics & read review @ Hardcorenorfolk.com
Thanx to Mark Shubert & Andre Ceniceros for the update & disc!!!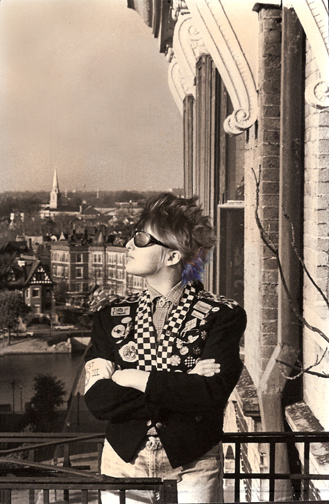 Your Webmistress: filthypit ~ my friends call me filth
January 1982 ~ 8th floor fire escape of Botetourt Bldg, overlooking downtown Norfolk's Hague river
WORD: It is my hope that others will appreciate/enjoy what I consider to be a significant contribution to America's urban cultural heritage (the contents of this webpage).The unwelcome combination of age & poor health has been my sole motivation for sharing this collection. The passing of time and friends has introduced me to the concept that some things are bigger than our own, individual egos. Between Norfolk, NYC, LA and London, I have taken many punk scene photographs over the years (a closet full)... too many to be reasonably published on the internet. Today, life has imposed other priorities ~ I fluctuate between sitting down and filing these photos in some sort of logical order & putting the whole lot in the trash. It definitely is not my intention capitalize other artist's efforts, living or deceased.
This webpage is for informational purposes only (non-profit).
| | |
| --- | --- |
| poster art by: Sue Panique | poster art by: Andea Rizzo / Debra Persons |
Website, CD cover & photographs: © Irish Willis Peele ~ all rights reserved
Front Line music/lyrics/titles: © Clites/Ceniceros 1981-82